140427 Finecut: Official Information on 2014 Movie Seafog (Haemoo)
SEAFOG (HAEMOO) PROMO SCREENING IN CANNES FILM MARKET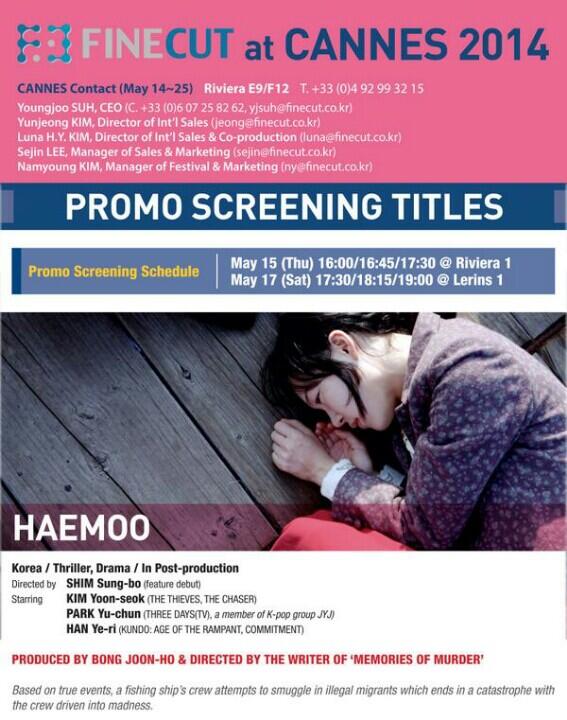 SEAFOG (HAEMOO) IN FINECUT'S 2014SPRING LINE-UP IN BERLIN FOR EUROPEAN FILM MARKET
HAEMOO (2014)

Based on true event, the 69-ton stow net fishing boat's crew attempt to smuggle in illegal migrants in order to keep their fishing job. But their plan goes wrong when they meet a tragic accident while transporting the thirty or so illegal migrants on the ship through the heavy sea fog. And amid the chaos, the youngest crewman Dong-sik tries to protect a female migrant who he falls in love with against the crazed Captain Kang and other crew members.
HAEMOO (2014)

SHIM Sung-bo

Known to be one of the most notable scriptwriter in Korea, SHIM Sung-bo is most known for the famous 2003 Korean film MEMORIES OF MURDER which he co-wrote with its director BONG Joon-h, which brought them numerous awards including the Best Screenplay Award at Korea Film Awards. HAEMOO will be his directorial debut.

Filmography

Selected Filmography 2012 Theater production – scenario dramatization 2003 MEMOIRS OF MURDER – writer Korea Film Awards – Best Screenplay Award

Director's Statement

Based on a true event that took place in Yeosu, 2001, HAEMOO is a combination genre film that fuses crime thriller and melodrama. Ordinary fishermen face moments of hell as they take on the role of smuggling illegal Korean-Chinese migrants. Stuck in thick sea fog, I wanted to portray the innocence and personal sacrificial love that rise from clashing of this generation's pain, human desire, human desire and morality in a moment of grave adversity.
HAEMOO (2014)

Cast

| | |
| --- | --- |
| KIM Yoon-seok | Captain Kang, captain of Junjin, in his 40s |
| PARK Yu-chun | Dong-sik, junior sailor in his 20s |
| HAN Ye-ri | |
| | |
| | |

Credit

| | |
| --- | --- |
| Director | SHIM Sung-bo |
| Executive Producer | KIM Woo-taek |
| Producer | BONG Joon-ho, CHO Neung-yeon, Lewis Taewan KIM |
| Co-Producer | TBC |
| Screenplay | SHIM Sung-bo, BONG Joon-ho |
| Cinematographer | HONG Kyeong-pyo |
| Lighting Director | KIM Chang-ho |
| Editor | KIM Sang-bum, KIM Jae-bum |
| Production Designer | LEE Ha-joon |
| Make-up | HWANG Hyun-gyu |
| Wardlobe | CHOI Se-yeon |
| Original Music | TBC |
| Sound | LIVETONE(CHOI Tae-young) |
| CGI Effect | TBC |

Tech Info

| | |
| --- | --- |
| Production Year | 2014 |
| Country of Production | Korea |
| Language | Korean |
| Gauge | TBC |
| Running Time | TBC |
| Length of Film | TBC |
| Screen Ratio | TBC |
| Number of Reels | N/A |
| Color | Color |
| Sound | TBC |
| Production Budget | US 10.0 M |
HAEMOO (2014)

| | |
| --- | --- |
| French Speaking Europe |  All Rights. |
| Japan |  All Rights. |
| Taiwan |  All Rights. |
Credit: FINECUT
Shared by: 6002Sky